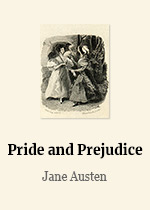 Description
Pride and Prejudice is a romantic novel of manners written by Jane Austen in 1813. The novel follows the character development of Elizabeth Bennet, the dynamic protagonist of the book who learns about the repercussions of hasty judgments and comes to appreciate the difference between superficial goodness and actual goodness. Its humour lies in its honest depiction of manners, education, marriage, and money during the Regency era in Great Britain. Pride and Prejudice has consistently appeared near the top of lists of "most-loved books" among literary scholars and the reading public. It has become one of the most popular novels in English literature, inspired many derivatives in modern literature.
Summary
Pride and Prejudice tells the story about a family of 7 made of Mr. and Mrs. Bennet and their five daughters. The time is the Napoleonic Wars circa the 1810-1820 and women had a low status within society unless they married well. It was a struggle throughout the story for elder sisters Jane and Elizabeth to comply with the obstinate ways of their mother in that they should marry a man of means, rather than a man they loved. Still Jane and Elizabeth were able to stick to what they believed and found love in the end despite of the drawbacks that their lack of aristocratic status (and dowry) made them encounter.
About Author
Jane Austen was an English novelist whose works of romantic fiction, set among the landed gentry, earned her a place as one of the most widely read writers in English literature, her realism and biting social commentary cementing her historical importance among scholars and critics.
Austen lived her entire life as part of a close-knit family located on the lower fringes of the English landed gentry. She was educated primarily by her father and older brothers as well as through her own reading. The steadfast support of her family was critical to her development as a professional writer. Her artistic apprenticeship lasted from her teenage years until she was about 35 years old. During this period, she experimented with various literary forms, including the epistolary novel which she tried then abandoned, and wrote and extensively revised three major novels and began a fourth. From 1811 until 1816, with the release of Sense and Sensibility (1811), Pride and Prejudice (1813), Mansfield Park (1814) and Emma (1815), she achieved success as a published writer. She wrote two additional novels, Northanger Abbey and Persuasion, both published posthumously in 1818, and began a third, which was eventually titled Sanditon, but died before completing it.
Austen's works critique the novels of sensibility of the second half of the 18th century and are part of the transition to 19th-century realism. Her plots, though fundamentally comic, highlight the dependence of women on marriage to secure social standing and economic security. Her work brought her little personal fame and only a few positive reviews during her lifetime, but the publication in 1869 of her nephew's A Memoir of Jane Austen introduced her to a wider public, and by the 1940s she had become widely accepted in academia as a great English writer. The second half of the 20th century saw a proliferation of Austen scholarship and the emergence of a Janeite fan culture.
Quotes From this Book
"I declare after all there is no enjoyment like reading! How much sooner one tires of any thing than of a book! — When I have a house of my own, I shall be miserable if I have not an excellent library."
"A lady's imagination is very rapid; it jumps from admiration to love, from love to matrimony in a moment."
"It is a truth universally acknowledged, that a single man in possession of a good fortune, must be in want of a wife."
"There are few people whom I really love, and still fewer of whom I think well. The more I see of the world, the more am I dissatisfied with it; and every day confirms my belief of the inconsistency of all human characters, and of the little dependence that can be placed on the appearance of merit or sense."
"I cannot fix on the hour, or the spot, or the look or the words, which laid the foundation. It is too long ago. I was in the middle before I knew that I had begun."
"Angry people are not always wise."