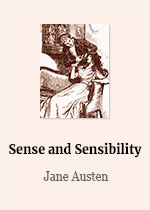 Description
Sense and Sensibility is a novel by Jane Austen, published in 1811. It tells the story of the Dashwood sisters, Elinor (age 19) and Marianne (age 16½) as they come of age. They have an older half-brother, John, and a younger sister, Margaret, 13. The novel follows the three Dashwood sisters as they must move with their widowed mother from the estate on which they grew up, Norland Park. Because Norland is passed down to John, the product of Mr. Dashwood's first marriage, and his young son, the four Dashwood women need to look for a new home. They have the opportunity to rent a modest home, Barton Cottage, on the property of a distant relative, Sir John Middleton.
Summary
When Mrs Dashwood is forced by an avaricious daughter-in-law to leave the family home in Sussex, she takes her three daughters to live in a modest cottage in Devon. For Elinor, the eldest daughter, the move means a painful separation from the man she loves, but her sister Marianne finds in Devon the romance and excitement which she longs for. The contrasting fortunes and temperaments of the two girls as they struggle to cope in their different ways with the cruel events which fate has in store for them are portrayed by Jane Austen with her usual irony, humour and profound sensibility.
About Author
Jane Austen (16 December 1775 – 18 July 1817) was an English novelist known primarily for her six major novels, which interpret, critique and comment upon the British landed gentry at the end of the 18th century. Austen's plots often explore the dependence of women on marriage in the pursuit of favourable social standing and economic security. Her works critique the novels of sensibility of the second half of the 18th century and are part of the transition to 19th-century literary realism.
Quotes From this Book
"The more I know of the world, the more I am convinced that I shall never see a man whom I can really love. I require so much!"
"If I could but know his heart, everything would become easy."
"Know your own happiness. You want nothing but patience- or give it a more fascinating name, call it hope."
"I wish, as well as everybody else, to be perfectly happy; but, like everybody else, it must be in my own way."
"It is not time or opportunity that is to determine intimacy;—it is disposition alone. Seven years would be insufficient to make some people acquainted with each other, and seven days are more than enough for others."