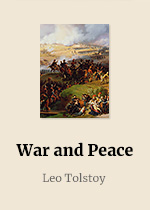 Description
In Russia's struggle with Napoleon, Tolstoy saw a tragedy that involved all mankind. Greater than a historical chronicle, War and Peace is an affirmation of life itself, `a complete picture', as a contemporary reviewer put it, `of everything in which people find their happiness and greatness, their grief and humiliation'. Tolstoy gave his personal approval to this translation, published here in a new single volume edition, which includes an introduction by Henry Gifford, and Tolstoy's important essay `Some Words about War and Peace'.
About Author
Lev Nikolayevich Tolstoy (9 September [O.S. 28 August] 1828 – 20 November [O.S. 7 November] 1910) was a Russian writer who primarily wrote novels and short stories. Later in life, he also wrote plays and essays. His two most famous works, the novels War and Peace and Anna Karenina, are acknowledged as two of the greatest novels of all time and a pinnacle of realist fiction. Many consider Tolstoy to have been one of the world's greatest novelists. Tolstoy is equally known for his complicated and paradoxical persona and for his extreme moralistic and ascetic views, which he adopted after a moral crisis and spiritual awakening in the 1870s, after which he also became noted as a moral thinker and social reformer.
His literal interpretation of the ethical teachings of Jesus, centering on the Sermon on the Mount, caused him in later life to become a fervent Christian anarchist and anarcho-pacifist. His ideas on nonviolent resistance, expressed in such works as The Kingdom of God Is Within You, were to have a profound impact on such pivotal twentieth-century figures as Mohandas Gandhi and Martin Luther King, Jr.
Quotes From this Book
"We can know only that we know nothing. And that is the highest degree of human wisdom."
"Nothing is so necessary for a young man as the company of intelligent women."
"The strongest of all warriors are these two — Time and Patience."
"If everyone fought for their own convictions there would be no war."
"There is no greatness where there is not simplicity, goodness, and truth."