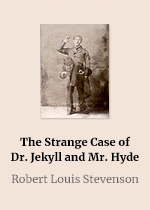 Description
Strange Case of Dr Jekyll and Mr Hyde is a gothic novella by Scottish author Robert Louis Stevenson, first published in 1886. The work is also known as The Strange Case of Jekyll Hyde, Dr Jekyll and Mr Hyde, or simply Jekyll & Hyde. It is about a London legal practitioner named Gabriel John Utterson who investigates strange occurrences between his old friend, Dr Henry Jekyll, and the evil Edward Hyde. The novella's impact is such that it has become a part of the language, with the phrase "Jekyll and Hyde" entering the vernacular to refer to people with an unpredictably dual nature: usually very good, but sometimes shockingly evil.
About Author
Robert Louis Balfour Stevenson (November 13, 1850 – December 3, 1894) was a Scottish novelist, poet, and travel writer, and a leading representative of English literature. He was greatly admired by many authors, including Jorge Luis Borges, Ernest Hemingway, Rudyard Kipling and Vladimir Nabokov.
Most modernist writers dismissed him, however, because he was popular and did not write within their narrow definition of literature. It is only recently that critics have begun to look beyond Stevenson's popularity and allow him a place in the Western canon.
Quotes From this Book
"Quiet minds cannot be perplexed or frightened but go on in fortune or misfortune at their own private pace, like a clock during a thunderstorm. "
"If he be Mr. Hyde" he had thought, "I shall be Mr. Seek."