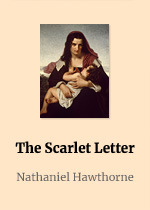 Description
The Scarlet Letter: A Romance is a work of historical fiction by American author Nathaniel Hawthorne, published in 1850. Set in Puritan Massachusetts Bay Colony during the years 1642 to 1649, the novel tells the story of Hester Prynne who conceives a daughter through an affair and then struggles to create a new life of repentance and dignity. Containing a number of religious and historic allusions, the book explores themes of legalism, sin, and guilt.
The Scarlet Letter was one of the first mass-produced books in America. It was popular when first published[2] and is considered a classic work today. It inspired numerous film, television, and stage adaptations. Critics have described it as a masterwork and novelist D. H. Lawrence called it a "perfect work of the American imagination".
About Author
Nathaniel Hawthorne (July 4, 1804 – May 19, 1864) was an American novelist, dark romantic, and short story writer. His works often focus on history, morality, and religion.
He was born in 1804 in Salem, Massachusetts, to Nathaniel Hathorne and the former Elizabeth Clarke Manning. His ancestors include John Hathorne, the only judge from the Salem witch trials who never repented his involvement. He entered Bowdoin College in 1821, was elected to Phi Beta Kappa in 1824, and graduated in 1825. He published his first work in 1828, the novel Fanshawe; he later tried to suppress it, feeling that it was not equal to the standard of his later work. He published several short stories in periodicals, which he collected in 1837 as Twice-Told Tales. The next year, he became engaged to Sophia Peabody. He worked at the Boston Custom House and joined Brook Farm, a transcendentalist community, before marrying Peabody in 1842. The couple moved to The Old Manse in Concord, Massachusetts, later moving to Salem, the Berkshires, then to The Wayside in Concord. The Scarlet Letter was published in 1850, followed by a succession of other novels. A political appointment as consul took Hawthorne and family to Europe before their return to Concord in 1860. Hawthorne died on May 19, 1864, and was survived by his wife and their three children.
Quotes From this Book
"We dream in our waking moments, and walk in our sleep."
"No man, for any considerable period, can wear one face to himself and another to the multitude, without finally getting bewildered as to which may be the true."
"She had not known the weight until she felt the freedom."
"Love, whether newly born or aroused from a deathlike slumber, must always create sunshine, filling the heart so full of radiance, that it overflows upon the outward world."