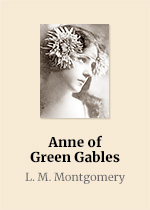 Description
Anne of Green Gables is a 1908 novel by Canadian author Lucy Maud Montgomery (published as L.M. Montgomery). Written for all ages, it has been considered a classic children's novel since the mid-twentieth century. Set in the late 19th century, the novel recounts the adventures of Anne Shirley, an 11-year-old orphan girl, who is mistakenly sent to two middle-aged siblings, Matthew and Marilla Cuthbert, who had originally intended to adopt a boy to help them on their farm in the fictional town of Avonlea on Prince Edward Island, Canada. The novel recounts how Anne makes her way through life with the Cuthberts, in school, and within the town.
About Author
Lucy Maud Montgomery OBE (November 30, 1874 – April 24, 1942), published as L. M. Montgomery, was a Canadian author best known for a series of novels beginning in 1908 with Anne of Green Gables. The book was an immediate success. Anne Shirley, an orphaned girl, made Montgomery famous in her lifetime and gave her an international following.
The first novel was followed by a series of sequels with Anne as the central character. Montgomery went on to publish 20 novels as well as 530 short stories, 500 poems, and 30 essays. Most of the novels were set in Prince Edward Island, and locations within Canada's smallest province became a literary landmark and popular tourist site – namely Green Gables farm, the genesis of Prince Edward Island National Park. She was made an officer of the Order of the British Empire in 1935.
Montgomery's work, diaries and letters have been read and studied by scholars and readers worldwide.
Quotes From this Book
"It's been my experience that you can nearly always enjoy things if you make up your mind firmly that you will."
"I'm so glad I live in a world where there are Octobers."
"Kindred spirits are not so scarce as I used to think. It's splendid to find out there are so many of them in the world."
"True friends are always together in spirit."