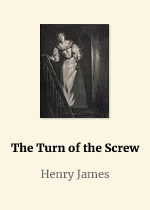 Description
The Turn of the Screw is an 1898 horror novella by Henry James that first appeared in serial format in Collier's Weekly magazine (January 27 – April 16, 1898). In October 1898 it appeared in The Two Magics, a book published by Macmillan in New York City and Heinemann in London. Classified as both gothic fiction and a ghost story, the novella focuses on a governess who, caring for two children at a remote estate, becomes convinced that the grounds are haunted.
Summary
A very young woman's first job: governess for two weirdly beautiful, strangely distant, oddly silent children, Miles and Flora, at a forlorn estate…An estate haunted by a beckoning evil. Half-seen figures who glare from dark towers and dusty windows- silent, foul phantoms who, day by day, night by night, come closer, ever closer. With growing horror, the helpless governess realizes the fiendish creatures want the children, seeking to corrupt their bodies, possess their minds, own their souls…
But worse-much worse- the governess discovers that Miles and Flora have no terror of the lurking evil. For they want the walking dead as badly as the dead want them.
About Author
Henry James OM (15 April 1843 – 28 February 1916) was an American author, who became a British subject in the last year of his life. He is regarded as a key transitional figure between literary realism and literary modernism and is considered by many to be among the greatest novelists in the English language. He was the son of Henry James Sr. and the brother of renowned philosopher and psychologist William James and diarist Alice James.
He is best known for a number of novels dealing with the social and marital interplay between émigré Americans, English people, and continental Europeans. Examples of such novels include The Portrait of a Lady, The Ambassadors, and The Wings of the Dove. His later works were increasingly experimental. In describing the internal states of mind and social dynamics of his characters, James often made use of a style in which ambiguous or contradictory motives and impressions were overlaid or juxtaposed in the discussion of a character's psyche. For their unique ambiguity, as well as for other aspects of their composition, his late works have been compared to impressionist painting.
His novella The Turn of the Screw has garnered a reputation as the most analysed and ambiguous ghost story in the English language and remains his most widely adapted work in other media. He also wrote a number of other highly regarded ghost stories and is considered one of the greatest masters of the field.
Quotes From this Book
"No, no—there are depths, depths! The more I go over it, the more I see in it, and the more I see in it, the more I fear. I don't know what I don't see—what I don't fear!"
"Of course I was under the spell, and the wonderful part is that, even at the time, I perfectly knew I was. But I gave myself up to it; it was an antidote to any pain, and I had more pains than one."
"He was there or was not there: not there if I didn't see him."
"—his indescribable little air of knowing nothing in the world but love."