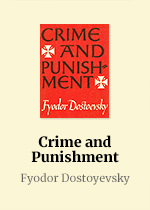 Description
Crime and Punishment is a novel by the Russian author Fyodor Dostoevsky. It was first published in the literary journal The Russian Messenger in twelve monthly installments during 1866. It was later published in a single volume. It is the second of Dostoevsky's full-length novels following his return from ten years of exile in Siberia. Crime and Punishment is considered the first great novel of his "mature" period of writing. The novel is often cited as one of the supreme achievements in literature.
Crime and Punishment focuses on the mental anguish and moral dilemmas of Rodion Raskolnikov, an impoverished ex-student in Saint Petersburg who formulates a plan to kill an unscrupulous pawnbroker for her money. Before the killing, Raskolnikov believes that with the money he could liberate himself from poverty and go on to perform great deeds. However, once it is done he finds himself racked with confusion, paranoia, and disgust for what he has done. His justifications disintegrate completely as he struggles with guilt and horror and confronts the real-world consequences of his deed.
About Author
Fyodor Mikhailovich Dostoevsky (11 November 1821 – 9 February 1881), sometimes transliterated Dostoyevsky, was a Russian novelist, philosopher, short story writer, essayist, and journalist. Dostoevsky's literary works explore human psychology in the troubled political, social, and spiritual atmospheres of 19th-century Russia, and engage with a variety of philosophical and religious themes. His most acclaimed works include Crime and Punishment (1866), The Idiot (1869), Demons (1872), and The Brothers Karamazov (1880). Dostoevsky's body of works consists of 12 novels, four novellas, 16 short stories, and numerous other works. Many literary critics rate him as one of the greatest psychological novelists in world literature. His 1864 novel Notes from Underground is considered to be one of the first works of existentialist literature.
Quotes From this Book
"Pain and suffering are always inevitable for a large intelligence and a deep heart. The really great men must, I think, have great sadness on earth."
"To go wrong in one's own way is better than to go right in someone else's."
"The darker the night, the brighter the stars, The deeper the grief, the closer is God!"
"We sometimes encounter people, even perfect strangers, who begin to interest us at first sight, somehow suddenly, all at once, before a word has been spoken."
"It takes something more than intelligence to act intelligently."
"Taking a new step, uttering a new word, is what people fear most."
"Pain and suffering are always inevitable for a large intelligence and a deep heart."