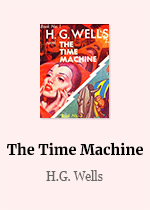 Description
The Time Machine is a science fiction novella by H. G. Wells, published in 1895 and written as a frame narrative. The work is generally credited with the popularization of the concept of time travel by using a vehicle or device to travel purposely and selectively forward or backward through time. The term "time machine", coined by Wells, is now almost universally used to refer to such a vehicle or device.
Summary
With a speculative leap that still fires the imagination, Wells sends his brave explorer to face a future burdened with our greatest hopes…and our darkest fears. A pull of the Time Machine's lever propels him to the age of a slowly dying Earth.  There he discovers two bizarre races—the ethereal Eloi and the subterranean Morlocks—who not only symbolize the duality of human nature, but offer a terrifying portrait of the men of tomorrow as well. 
About Author
Herbert George Wells (21 September 1866 – 13 August 1946) was an English writer. Prolific in many genres, he wrote dozens of novels, short stories, and works of social commentary, history, satire, biography and autobiography. His work also included two books on recreational war games. Wells is now best remembered for his science fiction novels and is often called the "father of science fiction", along with Jules Verne and the publisher Hugo Gernsback.
Quotes From this Book
"Nature never appeals to intelligence until habit and instinct are useless. There is no intelligence where there is no need of change."
"We should strive to welcome change and challenges, because they are what help us grow. With out them we grow weak like the Eloi in comfort and security. We need to constantly be challenging ourselves in order to strengthen our character and increase our intelligence. "
"It sounds plausible enough tonight, but wait until tomorrow. Wait for the common sense of the morning."
"Looking at these stars suddenly dwarfed my own troubles and all the gravities of terrestrial life."
"It is a law of nature we overlook, that intellectual versatility is the compensation for change, danger, and trouble. An animal perfectly in harmony with its environment is a perfect mechanism. Nature never appeals to intelligence until habit and instinct are useless. There is no intelligence where there is no change and no need of change. Only those animals partake of intelligence that have a huge variety of needs and dangers."
"And I have by me, for my comfort, two strange white flowers – shriveled now, and brown and flat and brittle – to witness that even when mind and strength had gone, gratitude and a mutual tenderness still lived on in the heart of men."
"Very simple was my explanation, and plausible enough—as most wrong theories are!"