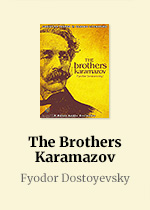 Description
The Brothers Karamazov (Russian: Бра́тья Карама́зовы, Brat'ya Karamazovy, pronounced [ˈbratʲjə kərɐˈmazəvɨ]), also translated as The Karamazov Brothers, is the final novel by Russian author Fyodor Dostoevsky. Dostoevsky spent nearly two years writing The Brothers Karamazov, which was published as a serial in The Russian Messenger from January 1879 to November 1880. Dostoevsky died less than four months after its publication.
Set in 19th-century Russia, The Brothers Karamazov is a passionate philosophical novel that enters deeply into questions of God, free will, and morality. It is a theological drama dealing with problems of faith, doubt and reason in the context of a modernizing Russia, with a plot that revolves around the subject of patricide. Dostoevsky composed much of the novel in Staraya Russa, which inspired the main setting. Since its publication, it has been acclaimed as one of the supreme achievements in world literature.
About Author
Fyodor Mikhailovich Dostoevsky (11 November 1821 – 9 February 1881), sometimes transliterated Dostoyevsky, was a Russian novelist, philosopher, short story writer, essayist, and journalist. Dostoevsky's literary works explore human psychology in the troubled political, social, and spiritual atmospheres of 19th-century Russia, and engage with a variety of philosophical and religious themes. His most acclaimed works include Crime and Punishment (1866), The Idiot (1869), Demons (1872), and The Brothers Karamazov (1880). Dostoevsky's body of works consists of 12 novels, four novellas, 16 short stories, and numerous other works. Many literary critics rate him as one of the greatest psychological novelists in world literature. His 1864 novel Notes from Underground is considered to be one of the first works of existentialist literature.
Quotes From this Book
"Above all, don't lie to yourself. The man who lies to himself and listens to his own lie comes to a point that he cannot distinguish the truth within him, or around him, and so loses all respect for himself and for others. And having no respect he ceases to love."
"What is hell? I maintain that it is the suffering of being unable to love."
"I love mankind, he said, "but I find to my amazement that the more I love mankind as a whole, the less I love man in particular."
"The mystery of human existence lies not in just staying alive, but in finding something to live for."
"The world says: "You have needs — satisfy them. You have as much right as the rich and the mighty. Don't hesitate to satisfy your needs; indeed, expand your needs and demand more." This is the worldly doctrine of today. And they believe that this is freedom. The result for the rich is isolation and suicide, for the poor, envy and murder."