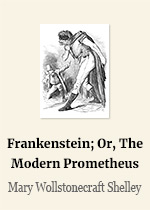 Description
Frankenstein; or, The Modern Prometheus is a novel written by English author Mary Shelley that tells the story of Victor Frankenstein, a young scientist who creates a hideous sapient creature in an unorthodox scientific experiment. Shelley started writing the story when she was 18, and the first edition was published anonymously in London on 1 January 1818, when she was 20.
Shelley travelled through Europe in 1815 along the river Rhine in Germany stopping in Gernsheim, 17 kilometres (11 mi) away from Frankenstein Castle, where two centuries before, an alchemist engaged in experiments. She then journeyed to the region of Geneva, Switzerland, where much of the story takes place. The topic of galvanism and occult ideas were themes of conversation among her companions, particularly her lover and future husband Percy B. Shelley. Mary, Percy and Lord Byron had a competition to see who could write the best horror story. After thinking for days, Shelley dreamt about a scientist who created life and was horrified by what he had made, inspiring the novel.
Frankenstein is infused with elements of the Gothic novel and the Romantic movement. Brian Aldiss has argued that it should be considered the first true science fiction story because, in contrast to previous stories with fantastical elements resembling those of later science fiction, the central character "makes a deliberate decision" and "turns to modern experiments in the laboratory" to achieve fantastic results. It has had a considerable influence in literature and popular culture and spawned a complete genre of horror stories, films and plays.
Since the novel's publication, the name "Frankenstein" has often been used to refer to the monster itself. In the novel, Frankenstein's creation is identified by words such as "creature", "monster", "daemon", "wretch", "abortion", "fiend" and "it". Speaking to Victor Frankenstein, the monster says "I ought to be thy Adam, but I am rather the fallen angel" (which ties to Lucifer in Paradise Lost, which the monster reads, and which relates to the disobedience of Prometheus in the book's subtitle).
Summary
Frankenstein tells the story of gifted scientist Victor Frankenstein who succeeds in giving life to a being of his own creation. However, this is not the perfect specimen he imagines that it will be, but rather a hideous creature who is rejected by Victor and mankind in general.
About Author
Mary Wollstonecraft Shelley (UK: /ˈwʊlstənkrɑːft/, US: /-kræft/; née Godwin; 30 August 1797 – 1 February 1851) was an English novelist who wrote the Gothic novel Frankenstein; or, The Modern Prometheus (1818). She also edited and promoted the works of her husband, the Romantic poet and philosopher Percy Bysshe Shelley. Her father was the political philosopher William Godwin and her mother was the philosopher and feminist Mary Wollstonecraft.
Mary Shelley was taken seriously as a writer in her own lifetime, though reviewers often missed the political edge to her novels. After her death, however, she was chiefly remembered only as the wife of Percy Bysshe Shelley and as the author of Frankenstein. It was not until 1989, when Emily Sunstein published her prizewinning biography Mary Shelley: Romance and Reality, that a full-length scholarly biography analyzing all of Shelley's letters, journals, and works within their historical context was published.
The well-meaning attempts of Mary Shelley's son and daughter-in-law to "Victorianise" her memory through the censoring of letters and biographical material contributed to a perception of Mary Shelley as a more conventional, less reformist figure than her works suggest. Her own timid omissions from Percy Shelley's works and her quiet avoidance of public controversy in the later years of her life added to this impression.
The eclipse of Mary Shelley's reputation as a novelist and biographer meant that, until the last thirty years, most of her works remained out of print, obstructing a larger view of her achievement. She was seen as a one-novel author, if that. In recent decades, however, the republication of almost all her writings has stimulated a new recognition of its value. Her voracious reading habits and intensive study, revealed in her journals and letters and reflected in her works, is now better appreciated. Shelley's recognition of herself as an author has also been recognized; after Percy's death, she wrote about her authorial ambitions: "I think that I can maintain myself, and there is something inspiriting in the idea". Scholars now consider Mary Shelley to be a major Romantic figure, significant for her literary achievement and her political voice as a woman and a liberal.
Quotes From this Book
"Nothing is so painful to the human mind as a great and sudden change."
"Beware; for I am fearless, and therefore powerful."
"Life, although it may only be an accumulation of anguish, is dear to me, and I will defend it."
"I do know that for the sympathy of one living being, I would make peace with all. I have love in me the likes of which you can scarcely imagine and rage the likes of which you would not believe. If I cannot satisfy the one, I will indulge the other."
"If I cannot inspire love, I will cause fear!"