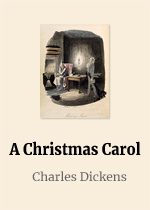 A Christmas Carol in Prose; Being a Ghost Story of Christmas
Author: Charles Dickens
Subject: Fiction
Tags: Classics, Short Stories, Fiction
Republished: Sep 05, 2020
Language: English
Goodreads Rating: 4.29
Description
A Christmas Carol. In Prose. Being a Ghost Story of Christmas, commonly known as A Christmas Carol, is a novella by Charles Dickens, first published in London by Chapman & Hall in 1843 . A Christmas Carol recounts the story of Ebenezer Scrooge, an elderly miser who is visited by the ghost of his former business partner Jacob Marley and the spirits of Christmas Past, Present and Yet to Come. After their visits, Scrooge is transformed into a kinder, gentler man.
A Christmas Carol captured the zeitgeist of the mid-Victorian revival of the Christmas holiday. Dickens had acknowledged the influence of the modern Western observance of Christmas and later inspired several aspects of Christmas, including family gatherings, seasonal food and drink, dancing, games and a festive generosity of spirit.
About Author
Charles John Huffam Dickens FRSA (7 February 1812 – 9 June 1870) was an English writer and social critic. He created some of the world's best-known fictional characters and is regarded by many as the greatest novelist of the Victorian era. His works enjoyed unprecedented popularity during his lifetime, and by the 20th century, critics and scholars had recognised him as a literary genius. His novels and short stories are still widely read today.